A few months ago, MariaDB conducted a study to gauge the initial COVID-19 impact on businesses moving to the cloud and IT professionals' attitudes on what has changed and what they think will change going forward.
Over the past year, we have already discussed the rapid expansion of cloud services and platforms as a service. Many firms were considering the cloud as a way to accelerate their digital expansions but, as any technological change, the change barriers held them back.
COVID-19 has undoubtedly changed the way we work and live, sending billions of people home for months. Businesses have had to adopt new, smarter working strategies to ensure they can continue to operate as close to normal as possible. Echoing the survey, "one trend we saw is that the global crisis is driving cloud adoption. 40 percent said COVID-19 is accelerating their move to the cloud," the company said in a blog post.

According to Markets&Markets, the global impact of COVID-19 on cloud market size is expected to grow from USD 233 billion in 2019 to USD 295 billion by 2021, at a Compound Annual Growth Rate (CAGR) of 12.5% during the forecast period. Major factors driving the growth of the market include:
enterprises' need to support a remote workforce,

the rise in demand for cloud-based business continuity tools and services.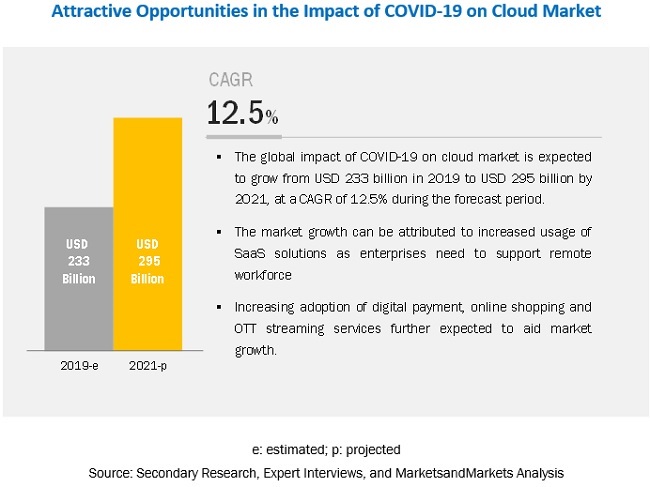 A catalyst for cloud
The cloud allows companies to gain business continuity and security: a centralised and secure cloud platform will allow companies to move traffic to wherever they need it to go. Workers can keep working and businesses can continue to operate.
Today, the cloud is more vital than ever: while Zoom is gaining traction with consumers and businesses, the reason millions of people can use this tech simultaneously is because of the benefits of cloud computing.
Collaboration
Cloud-based document sharing is a great way of ensuring that key pieces of content can be viewed and accessed by anyone who needs to see them without hours of digging. Remote work has been on the rise for the past several years, but the recent spike in stay-at-home workers means that businesses need to be able to handle entire teams located outside the office.
Costs
For almost all businesses, this is a time of great uncertainty. One of the greatest benefits of cloud computing is cost saving. The cloud allows using resources, networking, and security solutions without infrastructure cost or high initial investments.
Security
The security of data is the highest priority of a company and cloud providers plan their security strategy very intensively at all levels.
---
This is a time where tech providers have the ability to offer help to keep businesses and the economy operating. Companies are finally starting to realise the benefits and value of cloud computing, even beyond the immediate need of remote workers generated by COVID-19.